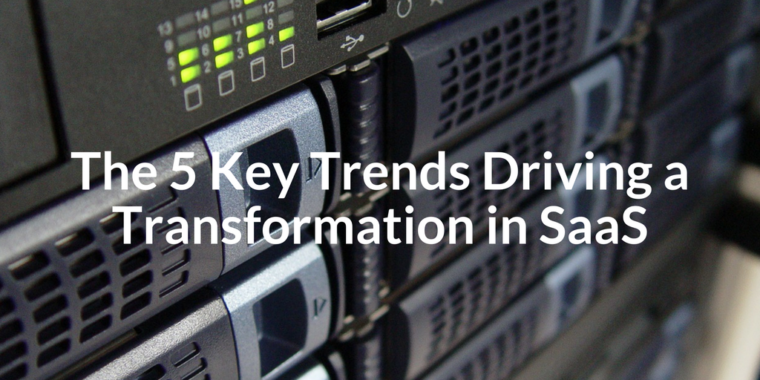 In the past five years, SaaS has become a global phenomenon. As Tom Tunguz recently pointed out, SaaS is not just a trend… it's here to stay. The past twenty years have seen the software industry increasingly migrate from on-prem solutions to the cloud. SaaS has gone from being the exception to the norm.
Last week, I was in San Francisco for my first SaaStr Annual conference. Perhaps the SaaStr community in itself is one of the largest pieces of validation for where the software industry is headed. Around 10,000 people came together for three full days of binging on all things SaaS. If you're a founder, investor, or some day entrepreneur, there was no better place to be. It reminded me of the movement behind Dreamforce many years ago.
In the spirit of all things SaaS, I took some time to reflect about the biggest growth opportunities still to come:
Trend #1: The continued rise of verticalization.
I believe we are entering into the era of SaaS 2.0. The infrastructure and foundation of SaaS has been established by broad, horizontal platforms. The likes of Salesforce, Oracle, and Intuit have become a part of the mission-critical business functions (CRM, ERP, etc.). Instead of reinventing the wheel, I predict we'll see more and more companies start to build on top of these platforms instead of competing alongside them.
The verticalization of SaaS will continue to be driven by people who deeply understand the problems of a specific industry – one that they have lived and breathed — vs being pure technologists. I believe we'll see "unsexy" verticals producing billion dollar SaaS companies. You name it. agriculture, logistics, legal, even waste management. Numerous untapped opportunities exist that will be solved by domain experts.
Why it Matters: Domain expertise trumps tech expertise.
Proof Point: For motivation, see the Veeva Systems story, which focused on disrupting the healthcare vertical.
Trend #2: The surge of flyover country.
This isn't a knock against The Valley… it's simply a continuation of the trend of SaaS verticalization. Many of the industries that have been slower to adopt the latest and greatest technology are anchored in the Midwest and other "flyover country."
America's heartland is the driver to many underserved industries such as manufacturing, packaged goods, healthcare, agriculture, etc. As Chris Olsen from Drive Capital mentioned in a recent post, the Midwest is the fifth largest economy in the world and California is the eighth. It certainly doesn't hurt B2B companies to be in close proximity geographically to their biggest customers.
Another benefit is the simple fact that the cost of living and doing business is substantially lower than the coast. The land grant and research-centric universities are creating opportunities for new tech, but also creating a solid talent pipeline. The combination of these factors fosters a maturing startup environment. I am witnessing this everyday from my vantage point as a Midwest investor. From the time I started writing angel checks until becoming a VC, the overall quality of companies that pitch to me have improved 10x.
Why it Matters: Companies don't have to move to the Bay area to be relevant.
Proof Point: "Yes, They Do SaaS in Indianapolis" from Dave Yuan, Managing Director of TCV and key ExactTarget investor.
Trend #3: Point solutions are here to stay.
Salesforce has become a swiss army knife, offering the world numerous services and solutions. But there's just something about products being built to do a single thing exceptionally well. You can be far more capital efficient when you're not building a giant, complex platform. Frankly the R&D functions at large companies can't justify the cost or time of building out customized point solutions to solve the specific needs of their customers. This will leave increasingly large gaps for innovation to happen around the edges.
Some thought leaders have predicted that point solutions will go away and everything will be consolidated into an all-in-one SaaS platform, but I think that is ludicrous. Companies will continue to buy specialized solutions. But, they will have to be integrated back into platforms of record, creating an interdependency that seems to work really well. End users will continue to appreciate the specialization in function, but don't want a more fragmented tech stack.
Why it Matters: Point solutions that solve specific problems matter more than ever, but integration frameworks to broader platforms are imperative.
Proof Point: Clement Vouillon, of Point Nine Capital, recently published a great series on Systems of Record and importance of open ecosystems.
Trend #4: Renewed focus on reporting and analytics.
It seems that with every piece of software I use, the reporting and analytics are a complete afterthought. Yet, it's often what busy users want the most. Why is this? What we need is for someone to bundle all the most important analytics that business leaders care about and present them in a cohesive dashboard that makes sense. Tell me what happened, and what I need to do next.
Predictive analytics and artificial intelligence are both helping make theses improvements with reporting a reality, as they're increasingly baked into technology. With people on the move, it's crucial that tech is built for mobile and social first. Busy company execs don't just want to know what happened, they want to know what's coming and how to react. It's time for visually simple and timely reporting to catch up. SaaS will continue looking and feeling more like lightweight consumer apps than heavy cumbersome software, which leads me to the last trend.
Why it Matters: Start with the end user and desired result in mind, and work backwards to balance futuristic and historic context.
Proof Point: Tableau has gone public with their software tools focused on reporting, and Domo continues to build great momentum, but this is just the beginning.
Trend #5: The consumerization of SaaS.
Yesterday's solutions were complex and difficult to use at first. Only later were they updated to seem more user-friendly. Today, we see B2B solutions emerging that seem more like B2C software with simple, clean UIs.
This will drive a new model for selling, too. Instead of the traditional, heavy enterprise sales model. this consumerized approach will breed a virality that creates more pull than push for the product, prompting more free trials, testimonials, and customer referrals. For the first time, we will witness a convergence of B2B and B2C like never before.
Why it Matters: B2B and B2C are truly converging into B2H (Business to Human). The B2B SaaS business model is changing to be more efficient, viral, and direct than ever before.
Proof Point: Slack is one of many great examples here. A lightweight, seamless, collaboration hub that is transforming how work gets done.
Why It All Matters
I believe we're at the most critical turning point for software.  Today's buyers crave expertise in specific areas instead of the "one size fits all" approach of past tech companies. Instead of trying to replicate what's already been done, rely on what the forefathers of the industry have already built and "plug into it" with more specialized tools. Do it better than anyone else, focusing on a particular pain point and creating very clear ROI. Doing it a more natural way with our everyday lives using AI and predictive analytics. It's clearer than ever SaaS has successfully navigated the first wave of broad adoption, and is now entering a second wave that will be even more game changing than the first.
My thoughts on the next wave of #SaaS following @SaaStrAnnual. I have more conviction on #2 than ever. https://t.co/6YfjitaCtV pic.twitter.com/C5YXDgLozG

— Tim Kopp (@tbkopp) February 13, 2017