I believe crushing demand gen is incredibly important for early stage startups. One of the common executional gaps I see marketing leaders making is not knowing how to build the plan to get there. Truthfully, it's not that hard – I think we've just overcomplicated the issue. Like most things in marketing (and perhaps in business and life), the answer starts with the end in mind and working backwards. So while most people think a successful demand gen plan starts with assigning numbers to leads and opportunities, it actually begins with one important question:
What are you trying to accomplish?
The answer, of course, is to help drive revenue. After all, isn't the point of every marketing initiative (campaigns, PR, branding, pricing, and even culture) to drive sales? The key is first identifying how much of that revenue goal your marketing team is signed up to deliver. Yet, it's astonishing to me how many people can't answer this simple question. Without this number, you end up chasing a random lead goal and falling short of your commitment to sales every quarter. Driving activity for activity's sake is pointless. Further, finding an answer to this question prompts great strategic discussions with your CRO, CEO, etc. and leads marketing to drive towards more of a bottom line impact.
Marketing's Commitment to Demand Generation
Assigning lead and opportunity goals before knowing your percentage of sales goal is like writing marketing content without clear company messaging. You end up wasting a lot of time, effort, and money chasing an arbitrary goal. So what's the right number?
It depends. Your industry, business size, and go-to-market model can all affect what your marketing revenue goal could be. In general, if you're not sure what the number should be and you have a direct selling organization, I'd suggest 50%. But it's not as important what the actual number is—just that all stakeholders are aligned on who's accountable for what. You can always start small and work your way up, but the important part is embracing the responsibility and being able to measure the results.
Let's start with some math to demonstrate:
If the new business target for the quarter is $500,000, then marketing owns $250,000.

If the average deal size is $10,000, it will take 25 deals to get there.

If 20% of opportunities convert to closed won new business (CWNB), you'll need 125.

If 20% of leads convert to opportunities, your lead goal should be 600.
(Remember to also add in a buffer "quota over assignment" of 15% for people not hitting their goal, etc.)
Pretty simple, right? Where it can get complicated is when leads from other quarters start rolling in. But an easy fix for that is assigning a lead source of "marketing automation." While this isn't a pure definition of marketing automation, these leads need to be assigned so they can mature and become more sales ready (i.e. using drip campaigns). From this point, the rest falls into place—assigning lead targets to individual owners (like events, webinars, campaigns, etc.)
This means that all you need to create a strong demand generation plan is five simple inputs:
New business goal

% of sales marketing owns

Lead to opportunity conversion rate

Opportunity to CWNB rate

Average deal size
To help you bring this to life for your company, linked below is a demand gen template that you can utilize for your organization. Hopefully this will allow you be more prescriptive with customizing your own demand gen plan.
I want to give a shout out to Blake Koriath for collaborating with me on this template. Blake is the go-to finance expert for six startups that are part of High Alpha, a venture studio based in Indianapolis. High Alpha is a close partner of Hyde Park Venture Partners and was actually the first investment from our second fund in May 2015. High Alpha's model is built to help startups navigate the stages from launching to scaling. Blake is a huge part of that process, as a finance professional that truly understands the overlap of sales, marketing, and finance as the backbone of SaaS companies.
Link to the Demand Gen Template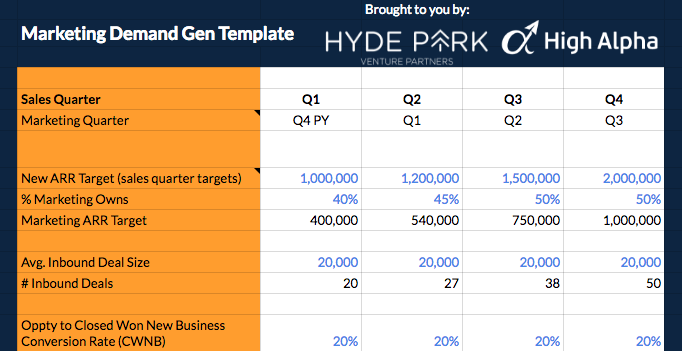 Creating Conversation and Clarity
The whole goal of building out a demand gen plan is to drive clarity and conversation between the sales and marketing function. Once you've accomplished that, practice becoming more efficient. Efficiency is crucial for creating greater sales velocity. Wouldn't it be freeing to bring in 100 opportunities from 200 leads instead of 2,000? By having a plan in place, you can easily tie the outcome to the input, and see the cause and effects. Once in place, you keep turning the dials of the demand gen machine, and producing better, more efficient outcomes.
This post is the second post of a three part series on Demand Gen. The first post "Demand Gen vs. Branding: Which is More Important" has generated a lot of positive discussion. Stay tuned for the third on how sales and marketing align to drive demand.
Demand Gen is crucial for early-stage #startups. Here's a guide for getting started. https://t.co/D45jWPnCP3 pic.twitter.com/0OnYOGvliX

— Tim Kopp (@tbkopp) September 21, 2016